Stella Palace
Μάθετε τα πάντα για το Stella Palace. Δείτε λεπτομέρειες για την Διαμονή σας, Φωτογραφίες των εγκαταστάσεων, χάρτη καθώς και στοιχεία επικοινωνίας!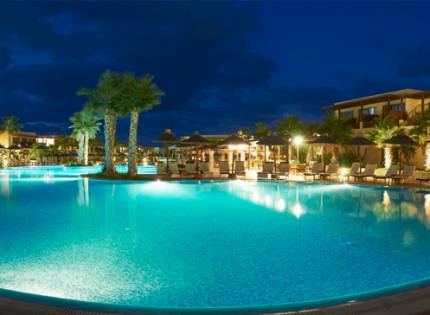 Stella Palace
The company Stella hotels after twenty years of experience in the touristic domain created the hotel Stella village, a very successful family hotel with numerous repeated clients. The creation of this modern and comfortable 5 star luxury resort hotel was based on the demands of the contemporary visitor.

Stella Palace was constructed in 2007-2008 in the area of Hersonissos and aims at offering high quality services without ever losing its human and friendly aspect that characterizes its managers and staff. Built on its private beach in the traditional village of Analipsi, it provides easy access to all interesting places of the beautiful island of Crete. It is located just 20 kilometers from the airport Nikos Kazantzakis, 25 kilometers from the city of Heraklio and the palace of Knossos, and just 4 kilometers from the cosmopolitan Hersonissos.
Stella Palace Φωτογραφίες
Stella Palace Εγκαταστάσεις και υπηρεσίες
For its clients' satisfaction the hotel Stella palace offers a variety of facilities that will allow visitors to experience unforgettable moments! Two sweet-water giant swimming-pools ( 1000 and 1300 m² ), three children's swimming-pools, playground and mini club, private sandy beach in front of the hotel, air-conditioned lounges and communal areas, verandas with sea view, TV/movies room, internet, amphitheater, mini market.
It is also equipped with all the necessary installations and is particularly friendly to people with special needs. Regarding food and drinking the hotel disposes: the main restaurant with a rich buffet and three thematic evenings every week with international, exotic, but also Mediterranean cooking, as well as a show cooking every evening, and the restaurant a la carte ELIA which emphasizes the Cretan diet ( where all clients who have opted for the all-inclusive option can dine for free once a week ).
At the area of the reception there is the piano bar where a professional pianist plays exquisite melodies for you every evening, and two bars at the area of the swimming-pool, Kohili and Thalassa, where visitors can enjoy a refreshing soft drink or a marvelous cocktail.
Stella Palace Επικοινωνία
STELLA PALACE HOTEL

ANALIPSIS - HERSONISSOS

CRETE - GREECE

TEL: 28970 29090

FAX: 28970 29228

EMAIL: info@stellapalace.gr