Grace Mykonos
Μάθετε τα πάντα για το Grace Mykonos. Δείτε λεπτομέρειες για την Διαμονή σας, Φωτογραφίες των εγκαταστάσεων, χάρτη καθώς και στοιχεία επικοινωνίας!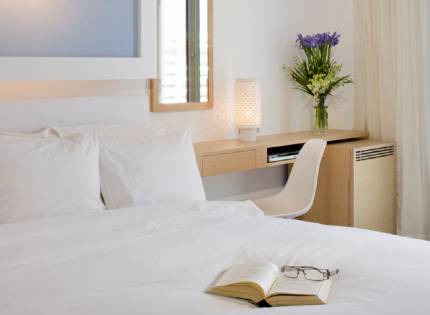 Grace Mykonos
An exclusive boutique hotel in Mykonos, our beautiful property is located just north of Mykonos town, with a sea view above the sandy and protected beach of Agios Stefanos. Guests at the Grace Mykonos design hotel are treated to an ideal setting, comprising luxurious facilities and warm hospitality for a unique hotel experience and a relaxed and pampered Mykonian island holiday. What is so important to many is a hotel with a spa, and Grace Mykonos will not disappoint those who wish to unwind and de-stress with a variety of carefully chosen spa treatments.
The graceful coexistence of traditional architectural elements and local craftsmanship with modern facilities and simple but elegant design touches is apparent throughout the property, representing Mykonos accommodation at its very best. Grace Mykonos, a true sea view hotel, has also been recognised as a design hotel since its inception in 2007 when it won the prestigious European Hotel Design Award, beating many leading global brands. The reception area, the stylish pool-side area adjacent to the Grace bar and restaurant, the refreshing spa and the gym, along with the close proximity to Agios Stefanos beach, combine to make this one of the most sought-after beach hotels in Mykonos as well as a special holiday and romantic honeymoon destination.
The perfect boutique hotel in Mykonos requires the perfect restaurant in Mykonos and dining is an integral part of your stay in any Grace hotel. Dishes of Mediterranean flavours infused with the freshest ingredients of the highest quality offer a truly authentic experience and a chance to appreciate the local cuisine of which Greece is so proud. Guests are invited to experience fine dining in one of the best Mykonos hotels. - See more at: http://www.gracehotels.com/mykonos#sthash.WEcE5gr5.dpuf
Grace Mykonos Φωτογραφίες
Grace Mykonos Εγκαταστάσεις και υπηρεσίες
Grace Mykonos Art Gallery
Those wishing to admire a carefully curated collection of contemporary Greek art will enjoy spending time in our small art gallery, created in partnership with the renowned Athens-based Skoufa Gallery. Paintings and sculptures are also available to buy. This is the perfect opportunity to see the work of some of Greece's upcoming artists in a setting which lends itself beautifully to blending design with craftsmanship. It also provides a unique spot for relaxation and contemplation.
Poolside Relaxation
The area surrounding the pool has been designed to provide an effortless setting for sunbathing, relaxing and taking in the view. Sun-loungers with umbrellas as well as king-size sun-beds offer the ultimate basking experience.

From a refreshing cocktail to a mouth-watering snack, our attentive staff ensure that your every wish is catered for. And expect occasional treats like frozen fruit juice shots or iced towels.
Fitness & Wellbeing in Mykonos
The gym of this luxury Mykonos accommodation is equipped with all the latest training equipment, including free weights, rowing machine, treadmill, eliptical trainer and yoga mats - perfect for those who wish to maintain their daily exercise regime during their stay. Guests can start off their day with an invigorating workout or a refreshing swim in the crystal clear waters of Agios Stefanos beach, or unwind with the full range of luxury pampering services.

Alternatively, our In Room Fitness kit is available for you to select from our menu of Bespoke by Grace services. The kit contains everything you need for your daily exercise while on Mykonos, including yoga mats, gymnastic pilates ball, fitness toner, thigh toner, speed rope, push-up stand, fitness band, set of weights, pilates ring, pilates mini ball and Disco Twister.
Boutique Hotel with Spa
No true luxury hotel in Mykonos would be without a spa, and in Greek mythology, the Graces were the goddesses of beauty. We have created a boutique spa in the hotel to ensure that our guests are pampered if they so wish.

Clean and functional changing rooms, a calm and relaxing treatment room with its own shower and changing room, a large common steam room, sauna, hydrotherapy bath and a 'serpentine' shower are just the start.

A range of services, revitalizing spa therapies and spa treatments, from a soothing massage to an invigorating body scrub, ensure that you leave the Grace Boutique Spa refreshed and rejuvenated, ready to enjoy a stroll on the beach of Agios Stefanos or take part in the many activities Mykonos Island has to offer.
Luxury Amenities at Grace Mykonos
As is customary at any Grace hotel, we strive to ensure that your stay is made as comfortable as possible with a range of amenities for your convenience. A small but carefully stocked library, complimentary wi-fi throughout the hotel, and Nespresso machines, flat screen televisions and iPod docking stations in all rooms are just some of the benefits available to you.

Conveniently located within the reception area is our business corner, equipped with two laptops with high speed internet access. Our team at reception will be pleased to assist should you require scanning or printing services.
Mykonos Concierge Services
Mykonos is a holiday destination waiting to be explored. Our dedicated team is ready to do everything possible to enhance your stay and make it as comfortable and care-free as possible. Assistance can be provided with arranging the following and more:
Airport / port transfers upon request (private taxi transfer)
Porter service
Baby sitting upon request. Baby monitors, baby chairs and baby cots all available.
Car and motorbike rental
Water taxi service
Water sports
Excursions and sightseeing
Trekking
Horseback riding
Dining
Boat trips to nearby islands
Speedboat, private daily cruises
Grace Mykonos Επικοινωνία
Agios Stefanos, Mykonos 84600

Greece

Tel: +30 22890 20000

Fax: +30 22890 26689

Email: res.mykonos@gracehotels.com