The Myconian Villas Collection
Μάθετε τα πάντα για το The Myconian Villas Collection. Δείτε λεπτομέρειες για την Διαμονή σας, Φωτογραφίες των εγκαταστάσεων, χάρτη καθώς και στοιχεία επικοινωνίας!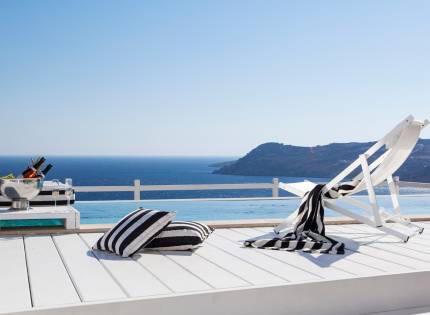 The Myconian Villas Collection
Myconian Villas, a superb all-villa resort, ideally situated above the beautiful Elia beach is offering the ultimate stylish, comfortable and wonderful holiday on the stunning island of Mykonos. Discreet opulence and privacy are perfectly combined with luxurious and modern facilities to provide an indulgent getaway for the guests and make them feel truly reborn!
Astonishing panoramic view of the blue Aegean, magnificent interiors based on traditional Myconian architecture are gently fused with contemporary design, luxurious facilities, a highly selected portfolio of public amenities and an exemplary level of service offered by our experienced staff to create an unforgettable experience. Each villa provides dining room, lounge area, private kitchen (some of them) and a private outdoor infinity pool or Jacuzzi. Two restaurants, infinity pool with pool bar and a state of the art thalassotherapy spa are also available to the guests.
Myconian Villas are large enough to offer the standards and quality of a five star hotel but with customized service that guarantees a memorable stay. The collection of elegant villas offers the ideal choice, whether you're looking for a romantic two-bedroom hideaway, a family size villa or a luxury villa large enough to share with a group of friends.
The Myconian Villas Collection Φωτογραφίες
The Myconian Villas Collection Εγκαταστάσεις και υπηρεσίες
Guest Services
To the ancient Greeks, hospitality was a divine right and this idea inspires our Guest Services and is reflected in every aspect of your staying. The clean lines, the bright white, the Greek warm light in a unique combination of branded design and ethnic decoration create a highly sophisticated style and make this unique resort a romantic hideaway, a true sanctuary for the senses. Careful attention has been given to all amenities and services as your wish is our obligation and our people are at your disposal to make your wishes come true!
Concierge services
The Myconian Villas offer a variety of high level of standards, services and housekeeping packages to make each "Villa experience" the smoothest and as most comfortable, relaxing, pleasant, romantic, homely, delightful and enjoyable as possible, introducing a new concept in modern living.
Luxurious transfer from and to the airport accompanied by the Villa Manager (Villas only)
Welcoming Champagne and fresh seasonal fruit juices upon arrival (Villas only)
Express check in / check out
Multilingual staff and secretarial services
Dedicated Guest Relation service
Escort to your Villa by the Villa Manager
Drive-in private parking and entrance to your Villa (in Unique Villas only)
Valet car attendance
Packing and unpacking service*
Pre arrival request and shopping service*
Butler service at your Villa*
Bath butler*
In villa beauty treatments*
Free Wi-Fi access
Maid service twice per day
Room service 24/7
Daily newspaper*
Laundry, garment pressing and dry cleaning services
Doctor on call*
Babysitting service*
Flower arrangement*
Facilities for beach events*
Water sports on the beach
* Upon request
Exclusive Amenities
Private beach with umbrellas and sun beds
Complimentary shuttle service to Mykonos Town
All day pool side Bar-Bistro offering exotic cocktails, snacks, refreshing smoothies and beverages at the Grand Villa Elia
Exclusive infinity sea water pool with breathtaking view of the Aegean sea and sunbathing terrace at the Grand Villa Elia
Unique gourmet experience, delicious Mediterranean flavors and excellent service at Cabbanes restaurant at the Grand Villa Elia
Fitness and Wellness Center
A state of the art thalasso-therapy Spa with indoor thalasso pools at the Grand Villa Elia
Professional massage therapies
Beauty Salon

In-house Chef Services
Your personal Chef and his team are at your disposal upon request
Daily fresh grocery delivery
Unique selection of coffees and tea
Breakfast served by your personal chef in your Villa
Pool lunch
Tailor made romantic dinners
Deluxe meals
Special culinary orders
Multipurpose function space (events, weddings & cocktail parties)
Luxury Transportation
Luxury cars upon request
Limousine Mercedes Benz S Class AMG Long
Range Rover Vogue
All time classic Rolls Royce Cabriolet Corniche 1976
Jeep Wrangler four doors
Car rental services and personal chauffeur
Above the Clouds upon request
Helicopter 5-8 seats and Yacht services. Authorized and exclusive helicopter landing zone, private jet service and yachts for discreet luxury at your service.
Private Excursions upon request
Explore every secret, romantic, beautiful corner of Myconos and the Cyclades with our luxurious cars, helicopter, private jet or private Yachts. You may visit Tinos - Virgin Mary's sacred island, Paros with the church of Our Lady of 100 Gates, the cosmopolitan eternal rock of Santorini and one Greece's most beautiful and undiscovered island, Folegandros.
The Myconian Villas Collection Επικοινωνία
Myconian Villas Collection

Elia Beach, Mykonos 84600

P.O. Box 64, Greece

Phone: +30 22890 76000

Fax: +30 22890 79595

E-mail: villas@myconiancollection.gr
The Myconian Villas Collection Χάρτης