Nafplia Palace Hotel
Μάθετε τα πάντα για το Nafplia Palace Hotel. Δείτε λεπτομέρειες για την Διαμονή σας, Φωτογραφίες των εγκαταστάσεων, χάρτη καθώς και στοιχεία επικοινωνίας!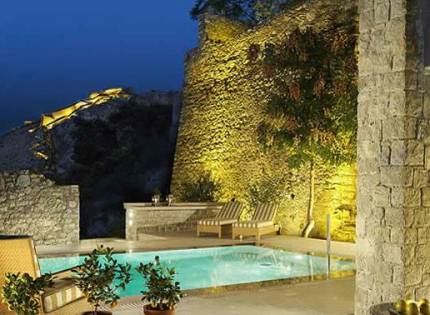 Nafplia Palace Hotel
Sat high upon the Bronze Age acropolis of Akronafplia with breathtaking views across the Bay of Argolis and Nafplion below, is perched the magnificent Nafplia Palace hotel. From the drawing board of an award wining architect, sprang the concept of an uncompromisingly luxurious hotel. Now, with a new collection of achingly beautiful villas and bungalows, once again Nafplia Palace can lay claim to being the jewel of the Peloponnese.

With two bars and three restaurants to suit your mood and moment, facilities for private meetings or 300 delegates. And simply sumptuous accommodation; with 51 hotel rooms and 33 individually designed villas, many with private heated pools or outdoor Jacuzzis.
Nafplia Palace Hotel Φωτογραφίες
Nafplia Palace Hotel Εγκαταστάσεις και υπηρεσίες
Overview
All rooms and villas are air-conditioned with direct dial telephones and have views over the Bay of Argolis. Many feature balconies or terraces some with private pools. For the business minded the hotel has three meeting rooms and also offers a full concierge facility, business centre and internet access. Hotel managed beach with beach bar and restaurant in addition to the large hotel pool with sun beds and poolside bar. A lift takes guests down through the ancient rock of the acropolis into the town of Nafplion and its sister hotel Amphitryon below.
Swimming
The fresh water swimming pool at the hotel is a sparkling delight. For those who prefer to swim in the sea the public Arvantia Beach is perfect. Umbrellas and sun-beds with a pool drinks service is available. An infinity pool is available for the exclusive use of villa quests.
Sports and Recreation
There are many wonderful walks around the hotel, including a walk around the Akronafplia peninsula, or to the public Arvantia Beach. Guests may also enjoy tennis, jogging, rafting, bungee jumping and mountain biking, all nearby. Climbing and diving can also be arranged by the hotel. Excursions are available to the many historical sites within the area. For the nautically minded, boat trips can be taken to the island fortress of Bourtzi or around the Argolic coast.
Parking and Heliport
Ample covered car parking is available at the Hotel. A heliport has been created on the top of the acropolis just a few steps away from the hotel entrance. Transfer times from Athens International airport are about 30minutes and private helicopter transfer can be arranged.
Nafplia Palace Hotel Επικοινωνία
We are situated half a kilometre from the centre of Nafplion, 140 km southeast of Athens, 90 minutes by car 20 minutes by helicopter.

From Athens International Airport "Eleftherios Venizelos" - Follow "Attiki Odos", direction Elefsina. Then follow the National Road to Korinthos and to Tripolis. 2km after the "Spathovouni" Toll-Post you will reach the "Ancient Nemea / Nafplion " Interchange, where you have to exit the National Road and follow the signs to Nafplion. The "Nafplia Palace Hotel & Villas" is located within the ancient fortress of Akronafplia, just above the old town of Nafplion.

Nafplia Palace Hotel & Villas:

Akronafplia, 21100 Nafplion, Peloponnese

Tel.: +30 27520 70800

Fax: +30 27520 28783

Hotel Manager:

Mr. Michael Makridakis: hotelmanager@nafplionhotels.gr

Assistant Manager:

Mr. Stelios Manousakis: palace@nafplionhotels.gr

Reservations Supervisor:

Mrs. Elisa Perdikari: reservations@nafplionhotels.gr

Human Resources:

Mrs. Markella Ladopoulou
Nafplia Palace Hotel Χάρτης